PSA is a French car company including Peugeot and Citroën brands. With its recent fusion with Fiat Chrysler group, it will become the world's fourth-largest automaker.

PSA is engaged in the transformation of its production sites and is moving towards the factory of the future. In fact, the plant is evolving from a homogeneous production to a heterogeneous monoflow production with a strong diversity of offers. PSA entrusted DIGINEXT to accompany them in this transformation and propose innovative solutions to revolutionize the kitting process.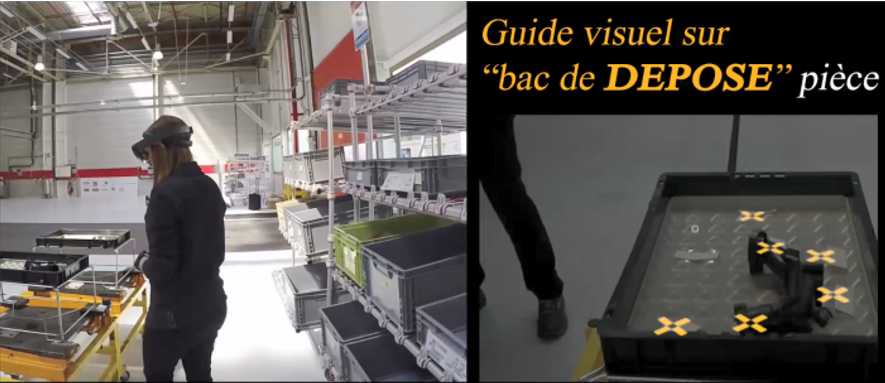 visual guidance for the dropping location
Operators in the kitting zone were operating in areas that were not very prone to change. The means used by the workers to build their kits are composed of different devices (paper and electronic).
Maintaining and increasing productivity and quality in a highly variable environment is at the heart of this challenge.
The solutions offered to operators are not sufficient to achieve these objectives.

Smart Kitting frees the cognitive load of the operator in his task from this variable environment, increases the kit constitution efficiency and the quality of the kits produced by the detection upstream of the process.
The Smart Kitting application is based on the use of
Microsoft HoloLens Helmet
and is developed with
Inscape SW
, it replaces the devices in place until now by offering to the operators visible information directly via the helmet:
direct connection with the information system to manage dynamically both the configuration of the kitting area and the shopping list to be carried out by the operator;
visual guidance for the picking and dropping location of the parts;
traceability by reading the RFID codes of the batch and kit numbers;
quality control of the kits by IA;
detection of pick and place errors.